Women - Images of the myth
---
Women in Greek mythology, and by extension in Greek art and epic and tragic poetry, play leading roles of great importance, highly charged with meaning.
By contrast, the position of the woman in society, in historical times at least, does not seem to correspond with that occupied by the brilliant, outstanding female figures of legend.
Difficult though it may be to understand today, this contradiction probably reflects some basic need that led to the creation of characters in which are concentrated a large number of different, alternative, female characteristics, to which they give extreme expression at the symbolic level.
Greek mythology differs from other systems contemporary with it mainly in this: Mind and the Intellect emerge all-powerful from the fantasy world of myth.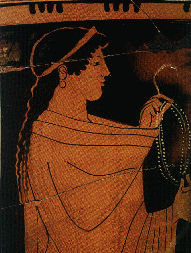 The Greeks were not devoted to their myths with the blind faith demanded by the eastern religions. They show them exactly for what they were: symbolism and allegory.
In this same sense, the core of the myth in the case of each of the female characters contains a special symbolical value which makes every figure unique, but also unites all these characters with each other, as well as with real, living women.
This is the red thread that guides the imprisoned women through the existential and social labyrinth, that helps them to emerge into the sunlight, to escape.
For these women, the punishment precedes the crime, since their original condemnation is due to their female nature, which leads to, if not the rejection, at least the contraction of their social role: their worth lies only in offering men the inspiration for heroic deeds, the certainty of conjugal fidelity, and their physical beauty. In essence, they are condemned to a life-time of inactivity and silence.
The red thread that guides women out of jail is Action and Reason. It is a reaction against the defeat inflicted upon them, an action embodying an honourable ideal, a despairing love, a view of society that comes into conflict with the established order. They offer themselves in a sacrifice containing a subjective choice within it, which is obliged to transgress the accepted bounds. They are dedicated to an obsession, as they move towards the goal they have set themselves, transcending themselves, their position and, in consequence, the cultural context that gave them birth.
Real, legendary or mythical characters, these brilliant female figures - sorceresses, queens, priestesses, poetesses - evoked admiration and fear not for their dangerous sexuality - as is common in other mythological systems - but for the power and competence of their minds. All these fearsome beings, who beat their wings like terrified, angry birds against the walls of myth, refused to remain inert, passive and submissive in the face of the injustice done to them, but used their superior intellectual power to vindicate themselves.
Through murder, suicide, infanticide - for the woman - mother, a double suicide - the women of myth rediscover their voice. Again. Their voice has reached us through the mouths of the poets, the men who sang their praises, censured them, hated them and loved them. The male poets allowed them to speak as long as they were images, confused allegories and imaginary figures, while at the same time muzzling the real women that lived alongside them. There are few exceptions to this rule and only a single voice, that of Sappho, breaks through the barrier of time, struggling against oblivion and anonymity.
'I have lived with strength and feeling,
with passionate emotions.'
(Zoi Karelli, The last song of Sappho)

Women suspended between myth and history, tatters of wornen who lived, fashioned and were fashioned, who, standing close, side by side, clung tightly to Ariadne's thread. In the colour of blood, of murder, of sacrifice and of love. Reason, and the Actions they dared, transmit their image over the centuries.

In their broken mirrors, women of all periods continually find fragments of their own form.




[Français]