Woman the beginning of misfortunes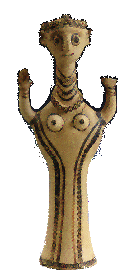 Many years after the creation, the gods made Pandora to punish mortals. She was created of marriageable age and endowed with all the graces of the heaven, the fascination of the earth and the wealth of the immortals. In order to serve the purposes of the Olympian gods, however, Pandora had to be superficial, curious, disobedient, and lacking in prudence and judgement. This is why she opened the jar containing the misfortunes that immediately attacked mortals and have been attacking them ever since.
Through this first act of rebellion Pandora, as a sister of Eve, brought upon herself and her sex the responsibility and guilt for the lost paradise of the human race.
At the bottom of the box there remained only one consolation: Hope.


Woman the beginning of the universe
In the beginning was the Goddess of All Things, Eurynome, who emerged naked from Chaos. She found nothing on which her feet could rest, however, and therefore divided the sea from the sky, dancing alone upon the waves. Eurynome danced towards the south, and the wind set in motion behind her caused something new and special to appear, something that would help the task of creation to begin...




[Français]